Dashboard: View Detailed System Statistics
ICTFax has a descriptive Dashboard which shows System Statistics i.e the details of the Campaigns and Transmission. ICTFax displays status of campaigns, total contacts, and processed contacts. Provides with facility to create transmissions and campaigns from the main page as well.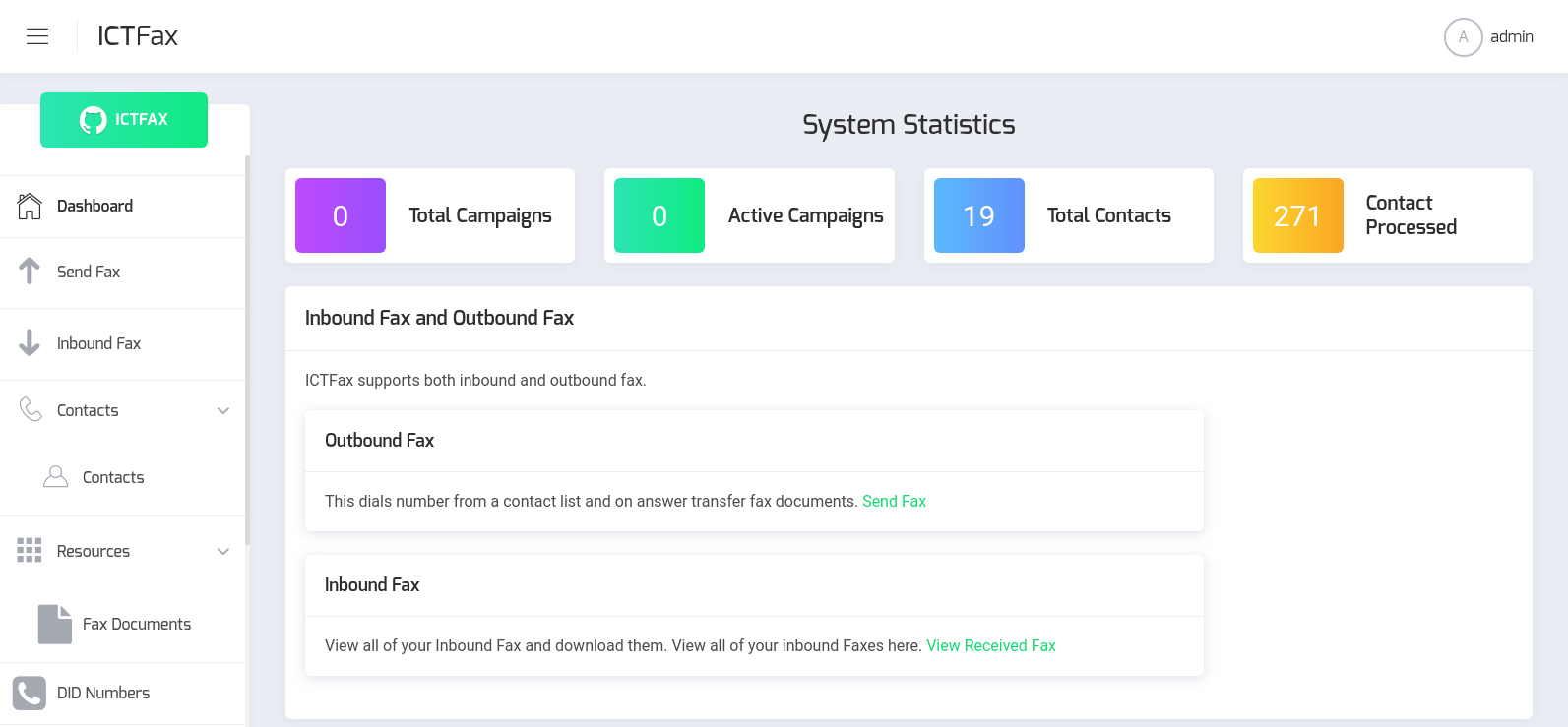 Blasting simultaneous messages
ICTFax is a comprehensive fax software that provides vast fax related features. A user can send Fax from Web, Fax from Email Account and Receive Fax on Email account and Website. Campaigns provide their user the facility to send a large amount of data in a less time.
WEB TO FAX
The Process of sending fax from a fax server through internet is called Web to Fax service. The user connects to the fax server such as ICTFax on the web,specifies the receiving fax number and uploads the document to send. The document is usually in PDF,TIFF format and after that the user send the fax and fax gets delivered to receiving fax machine or fax server. More Details
FAX TO WEB
The Process of receiving fax from a fax machine or from a fax server on the internet is called Web to Fax service. A fax is sent via the Public Switched Telephone Network (PSTN) to the fax server which receives the fax and converts it into PDF or Tiff format,according to the instructions of the user. The processed file is then transmitted to the Web server,where the fax as an attached pdf or tif file can be viewed. More Details

EMAIL TO FAX | FAX TO EMAIL
ICTFax made it possible to send and receive faxes without ever touching an actual fax machine.With ICTFax faxing any document you create on your computer in PDF,JPG,TIFF file format can be attached into an email and sent to a fax machine which will become hard copy after print out. ICTFax is an email to fax and fax to email gateway which supports G.711 faxing,PSTN faxing and FoIP, T.38 origination and termination. With ICTFax receiving a fax is as easy as opening email.You will receive an email with a PDF , JPG or TIF attachment to an email address you specify in ICTFax.You may also access your faxes by logging into your ICTFax account anytime from anywhere around the world. ICTFax enables user to send file from email to fax machine through email to fax service .User can also receive fax in the email account as a PDF file format through fax to email process.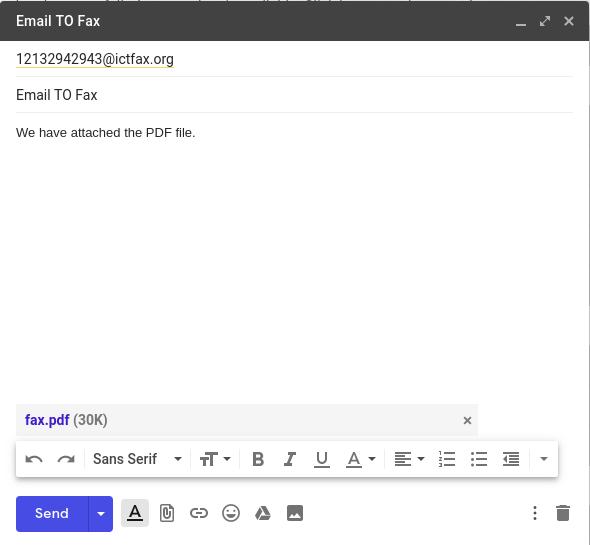 SENDING FAX VIA ATA
User can configure ICTFax and fax machines for outgoing faxes as following 1. Click My Extensions from main menu 2. Click on View against selected extension 3. Note extension configurations, especially username, password, host and port number 4. Connect ATA with network and Fax machine with ATA 5. Open ATA's web configuration portal and configure it as per extensions configurations. Now user can dial destination number from fax machines and can continue with fax sending process.
RECEIVING FAX VIA ATA
To receive faxs at fax machines, user has to forward his DID number to extension from ICTFax GUI. Please check following for more details. 1. Visit My Incoming numbers from main menu. 2. Select Forward against selected DID 3. In resultant form select Forward to Extension and then select target extension from underneath select field. 4. Click on submit to save new configuration
Note: user still have to configure his ATA with selected extension, as per the instruction given above in Sending Fax section.