Direct inward dialing (DID) is s service of a local phone company that provides a block of the telephone numbers for calling into a company's private branch exchange (PBX system). In order to manage DID numbers in ICTFax, the following steps are listed below:
Steps to create DID numbers
Navigate to the administration main-menu, then click on DID number sub-menu it will open a DID list the page that contains DID details like (Title, Assigned to), etc.
Click on the edit button to overview and to perform editing in DID details.

Click on the arrow icon to assign DID, it will open an assign DID page:
DID info
Write DID number in the field box.
User information
Click on the assign user drop list, select a user from the list to assign DID, and click on Submit button.
To Create New DID
Click on add DID button, it will open DID form. Type DID number in the field box. Type title of DID in the field box.
Click on Submit button, new DID number will be added to the list as shown: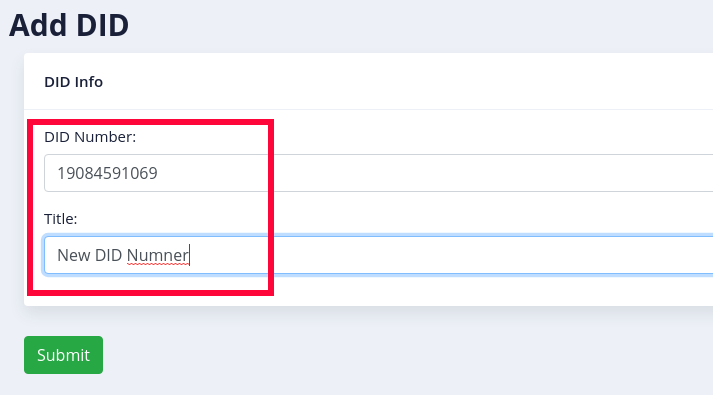 DID's batch
ICTFax facilitates users to create DID numbers in batch. You can customize the length of your DID's number according to your need. Follow the below steps to create DID batch:
Click on create DID's in the batch button, it will open DID form page.
Set DID's length in range fields.
Write Title of DID batch in the text box.
Click on Submit button to complete action as shown:
Want more to read about DID's